Resist bullets, intrusions and hurricanes
Resist bullets, intrusions and hurricanes
Burglar-proof, bulletproof and wind-resistant security shutter
The DIAMOND BL door offers an FB4-S bulletproof protection (according to EN 1522:1999), an RC5 burglary resistance (according to EN 1627:2011), and a class 5 wind resistance (up to 1,000 Pa according to EN 12424:2000). Therefore, it offers high security against intrusions, strong winds and armed attacks. Elegant, secure and functional, this door offers the maximum performance for your peace of mind.
The size of its slats facilitates the installation of this model in small spaces without losing its bulletproof capacity and being able to endure the impact of a 44-calibre firearm. It is not only one of the most secure doors in the world, but thanks to our wide range of finishings you can customize it the way you prefer in order to integrate the door in any kind of environment or decorative style (housing, business, industry, etc.). As an option, we can also provide our crystal silver finishing (a special anti-Molotov cocktail layer).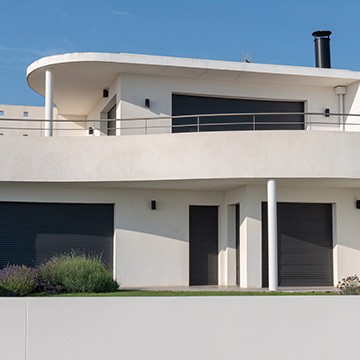 Its class FB4-S certification guarantees the shutter's resistance against bullets with a 357 Mag. and 44 Rem. Mag. calibre.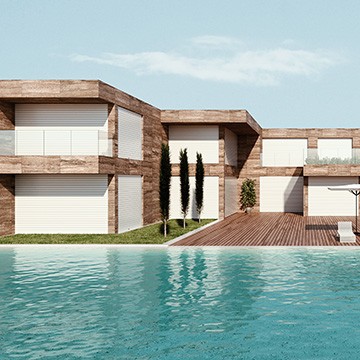 The guides are installed inside a support system with a roller system to prevent any collapse.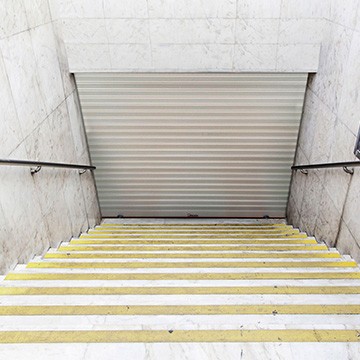 Ask for our different finishing options to obtain a secure door, completely adapted to your project.
| | |
| --- | --- |
| FINISHINGS | High resistance anodised "crystal silver". |
| SUPPORTING STRUCTURE WITH GUIDES | Structure of 260 x 150 x 3 mm with 100 x 40 x 3 mm guides reinforced with nylon for a minimum friction (no lubrication). |
| MEASURES / WEIGHT | 7,000 mm x 5,500 mm (maximum height and width including guides). Mass 46.7 Kg/m² (approx.) |
| ENGINE / AXIS | Single-phase and three-phase electrical engines, tubular or lateral type calculated for the specific dimensions of each project from 100 to 4.000 W (peak power). Voltage 100 – 127 V / 220 – 240 V / 380 – 400 V / 480 – 600 V (50 / 60 Hz). |
| LOCKS AND AUTOMATISMS | Automatic electronic equipment 100 – 127 V / 220 – 240 V / 380 – 400 V / 480 – 600 V (50 / 60 Hz) and low voltage manoeuvre 12 V. |
| TOP PORTION | It is necessary and mandatory to manufacture a removable portion on the lower part of the door's roll in order to access it and proceed with maintenance. The portion must be 60cm wide all along the door. |
| TOP ALUMINIUM BOX | Optional TUBULAR PLUS top aluminium box, manufactured from extruded aluminium of the same material and colour as the door. Allows easy Access to proceed to door maintenance. |
| WIND RESISTANCE | Class 5 |
| OPENING SPEED | 0.2 m/s (approximately). |
| THERMAL VALUES | U= 5.29W / (m2 · K) – Rt = 0.189 (m2 · K) /W |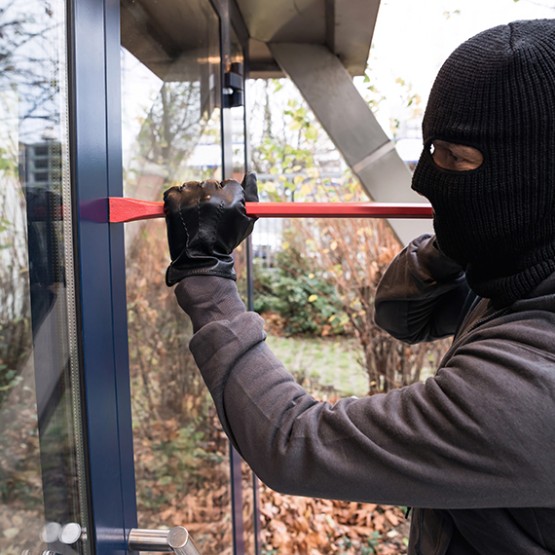 Burglary resistance
The DIAMOND BL model offers class RC5 burglary resistance according to the UNE-EN 1627:2011 standard.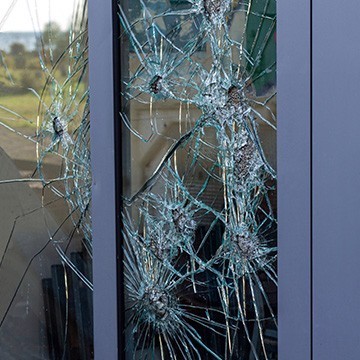 Bullet resistance
The DIAMOND series introduces a novelty in ballistic protection. This model offers an FB4 protection level according to European standard EN 1522.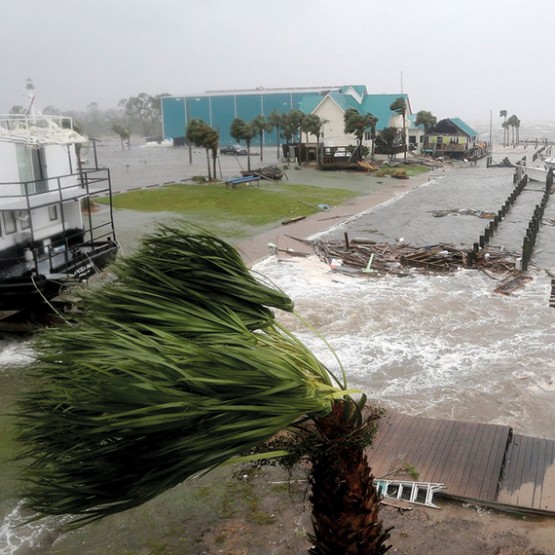 Wind resistance
The door is guaranteed against a class 5 wind force, which makes it particularly resistant to the force of the wind.
What is the difference between a shutter and a sectional door?
Shutters are a retractable closing system with tissue made up of aluminium slats, usually of 60-100 mm height, that roll around an axis installed on the door's top lintel, allowing the installation in a relatively small area. These doors are perfect for their installation in places with scarce space or outdoors.
Sectional doors are a system made up of steel or aluminium panels, around 500-600 mm high, that circulate through the guides situated on the sides and the ceiling and that use the available space, permitting an installation in places with high and long ceilings. This situates the door on the ceiling when it is open.
How can I know what level of security I need?
Each space is unique. The national situation, the people and goods needing to be secured, the location of the area, the local regulations… all of these elements play an important role when selecting the degree of security needed and the elements required.
A building may require different security elements with a security level (whether certified or not), combined with high-security elements. This is why the best option is to contact our experts so that they can proceed to a detailed study of your space. Once this done, they will advise you on the correct elements that your specific situation requires, as well as of the security level that best adapts to your needs.
How long does the installation of a security shutter take?
It depends. The installation time of a CBX shutter depends on many factors such as the characteristics of space available for the installation, the dimensions of the door to be installed, etc. Our technical and commercial team will answer any question of this kind once your project is studied.
Does the opening system work without electrical power?
Yes. Our shutters include a handle to manually open and close the door in case of power failure or failure of the electrical power supply.
Can I connect my home automation and security control system to a CBX shutter?
Yes. Our security systems offer a high capacity of integration, therefore, if you already have in your building a home automation system or any other kind of electronic device, you can still use it in connection with our systems without any alteration of the performance of the door and you can still use it remotely.
What is armoured building or physical security?
The concept refers to the integration of a series of physical security systems (windows, doors, shutters and fixed windows) to make a building unsurmountable from the exterior without permission. The design is implemented in order to avoid any unwanted or sudden attack after a security analysis. CBX specializes in the comprehensive integration of high-security armoured building systems. Depending on the level of security, the requirements may include the complete coverage of the building or the shielding of a specific area (for instance, a bunker or a panic room).
We often link armoured buildings with high level public or private buildings such as banks or embassies. However, the percentage of violent thefts of the world's criminal rate has increased exponentially in the recent years, therefore it is more and more necessary to resort to these systems, that can be useful for a jewellery, a house or an art gallery. You can shield a whole building, a window or a door exposed to violence.
Protect yourself with our maximum security solutions
Protect yourself with our maximum security solutions