Bulletproof and burglar-proof joinery
Bulletproof and burglar-proof joinery
Burglar-proof and bulletproof security doors, windows and fixed elements
Unfortunately, the current reality we are living makes it necessary to have reliable security systems in order to feel protected in our homes or businesses. It is no longer enough to have the basic elements that worked until now in order to keep danger at bay. The increasing criminality rates have skyrocketed the number of theft attempts and sharpened the wits of the pilferers. This is why we have developed a complete range of doors, windows and fixed elements that responds to the highest European standards regarding burglar-proof and bulletproof certification, so that you can feel safe wherever you need it.
The FR ULTRA-BAIX security joinery system, made up of doors, windows and fixed elements (both glazed and opaque) have been specially designed for areas where high levels of security are required such as banks, jewellery shops, high-standard housing, museums, public buildings, etc.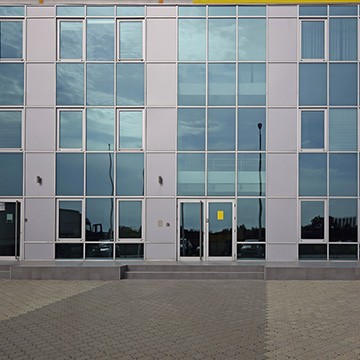 Because the best security is invisible, our ultra-secure products are perfectly designed to become invisible and continue working in perfect conditions.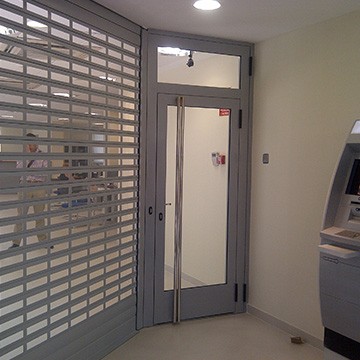 The different profiles and elements make it 100% adaptable to its environment so that it will not be detected by potential criminals.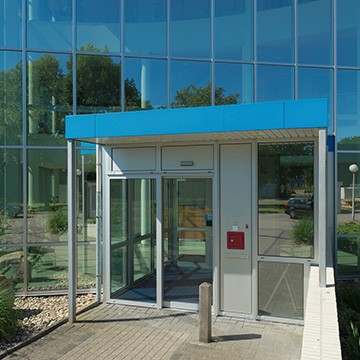 In addition, thanks to our tailor-made manufacturing system, you can choose the finishing that best adapts to your project, ensuring the complete mimicry of the element to its surroundings.
BURGLAR PROOF RESISTANCE

R

C4 – In compliance with EN 1627:2011

BULLETPROOF RESISTANCE
F

B4 – In compliance with EN 1522:1999

MAX. BLADE DIMENTIONS*

Width: 2,686 mm | Height: 2,563 mm

MAX. BLADE WEIGHT*

Up to 300 kg

GLAZING

Max. 61 mm

TRANSMITTANCE

Uw ≥ 1.7 (W/m2K)

ACOUSTIC INSULATION

Rw up to 48 dB

AIR PERMEABILITY

Class 2 – In compliance with EN 12207

WATERTIGHTNESS

Class 5A – In compliance with EN 12208

WIND RESISTANCE

Class C5 – In compliance with EN 12210
*Dimensions and weight may vary according to typology.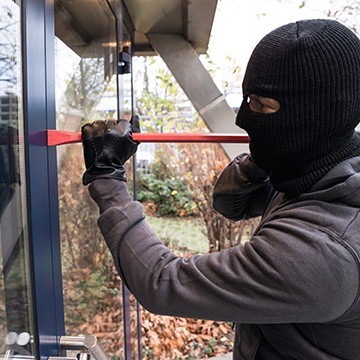 Burglary resistance
When we say something is burglar proof, we refer to its capacity to prevent unwanted intrusions. In Europe, the standard regulating the tests to determine the burglar proof resistance is UNE EN 1627 and burglary resistance levels go from RC1 to RC6.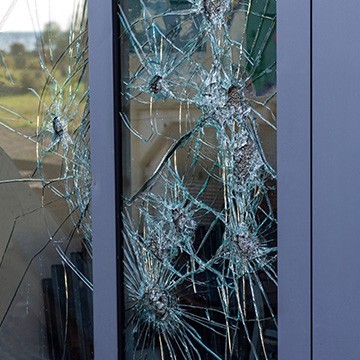 Bulletproof resistance
Ballistic weapons are the hardest to resist during thefts or intrusions or even in terrorist attacks. To this effect, regulation UNE EN 1522 sets forth the tests and security levels, going from FB1 for weapons with up to a 22 calibre; to FB7 for 7.62×51 calibre weapons.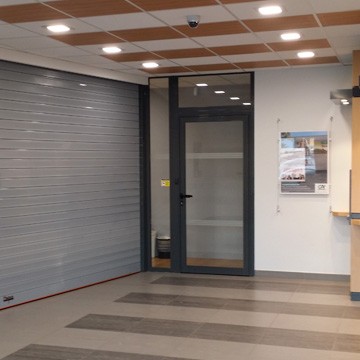 Wind resistance
Wind gusts can seriously damage the structure of any building or space. Our security joinery is specially designed and manufactured with resistant materials in order to ensure a maximum hurricane resistance.
What is the difference between bulletproof and burglar proof?
Burglar proof refers to those elements that cannot be trespassed using methods of intrusion or theft whereby physical force is used, as well as big or small tools (whether electrical or manual); in order to access inside a place. Moreover, bulletproof is similar to the method described above, with the difference that the attacks are perpetrated using firearms.
Both types of attack may be certified according to the power or the calibre, as applicable, of the object or weapon used for the attack. This is then classified with a lower or higher number (RC1 to RC6 for burglar proof systems and FB1 to FB7 for bulletproof systems) according to the corresponding European regulation.
What exactly is the test to determine the door's resistance to bullets?
The certification test to determine a door's resistance to the impact of bullets from firearms in order to classify them according to the European regulation EN 1522:1999 is carried out following the specifications of standard EN 1523:1999.
The testing process takes place in a certifying laboratory, that situates the joinery sample at a specific temperature and is shot in different areas (frame, blade and/or filling) with the specific calibre required for the class to certify.
Can I opt to have only a burglar proof joinery?
Of course! We are integrators of physical security. All of our products may combine and adapt to your security needs and those of your business or home in order to provide you the best quality and service.
Is the ULTRA-BAIX's security level enough for my building?
If you have any doubt or query regarding whether the security levels of our products match the needs of your specific situation, feel free to contact our team of experts who will prepare for you a customized study of the security available for your specific project.
What materials are used by CBX for its bulletproof joinery?
Our doors are mainly manufactured from a high resistance aluminium alloy. Playing around with the different thicknesses, as well as their use with materials strategically located, our joinery elements become bulletproof resistant. Regarding the glass, it is certified in compliance with the corresponding regulation (EN 1063:2001) and tested with the profiling in compliance with regulation EN 1522:1999.
Can the joinery adapt to my environment?
Thanks to the wide range of colours and finishings, it is possible to adapt joinery solutions to any space, premises or environment without compromising the aesthetics.
Protect yourself with our maximum security solutions
Protect yourself with our maximum security solutions