Burglary resistance, light and visibility
Burglary resistance, light and visibility
The only security shutter that allows you to display what's inside
The SECURBAIX BL VISION is a high-security shutter that guarantees a class 4 (RC4) protection against theft attempts (EN 1627:2011). It perfectly combines protection and security with luminosity and transparency.
The perfect door to combine burglary resistance with luminosity and transparency.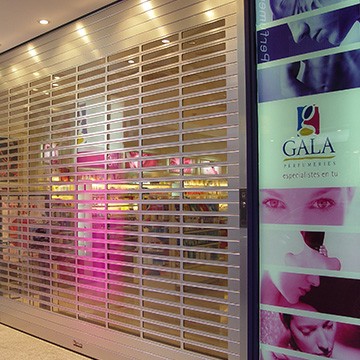 A shutter that can support physical attacks perpetrated by experimented criminals with the use of heavy tools such as portable drills.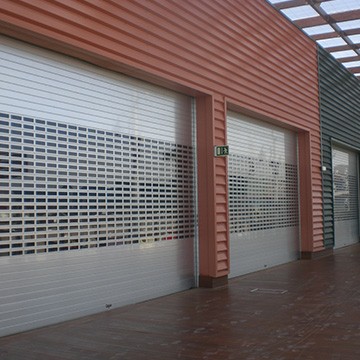 Straight die-cuts of 400 x 55 mm, with high-resistance interior.
PROFILES

High resistance extruded aluminium (Al, Mg, Si, Titanio). Double wall profiles of 85x15x1,5mm. 200 x 55 mm milling.

FINISHINGS

RAL lacquering, Wood lacquering, high resistance anodized crystal silver.

GUIDES

Guide 110x80x3mm wide + Guide of 65x34x3mm and nylon for a minimum friction (no lubrication).

MEASURES / WEIGHT

7,000 mm x 5,000 mm (recommended width and height including guides). Weight 16.0 kg/m2 (approx.)

ENGINE / AXIS

0-4,000mm wide and 0-150 Kg – Reinforced axis of Ø 60mm, pulleys Ø 220mm with steel strappings and nylon protections. Single-phase central motor 220V and electrical brake – Max. recommended manoeuvres: 20 daily.

4,000-7,000mm wide and 150-350 Kg – Reinforced axis of Ø 76mm, pulleys Ø 240mm with Steel strappings and nylon protections. Single-phase central motor 220V and electrical brake – Max. recommended manoeuvres: 20 daily.

LOCK AND AUTOMATISMS

Automatic electronic equipment 220 V and low-voltage manoeuvre 12V.

EXTERIOR OPENING

SECURITY K LOCK (front of guide) / SECURITY K MINI (side of guide) – Stainless steel, security lock, emergency unblocking handle in case of engine or electrical power failure. (Central engine). Digital membrane keyboard.

INTERIOR EMERGENCY SYSTEM

CONNEX V / CONNEX HOME SELECTORS. They incorporate digital buttons and an emergency stop button.

TOP PORTION


It is necessary and mandatory to manufacture a removable portion on the top of the shutter to allow access for maintenance. The portion must be 60 cm wide all along the door.

TOP ALUMINIUM BOX

Optional top aluminium box DUETPLUS, manufactured from extruded aluminium from the same material and colour as the door. Allows easy access to perform door maintenance.

WIND RESISTANCE

Class 2 (98 km/h)

OPENING SPEED

0.2 m/s (approximately)

THERMAL VALUES

U= 5.34W / (m2 · K) – Rt = 0.18 (m2 · K) /W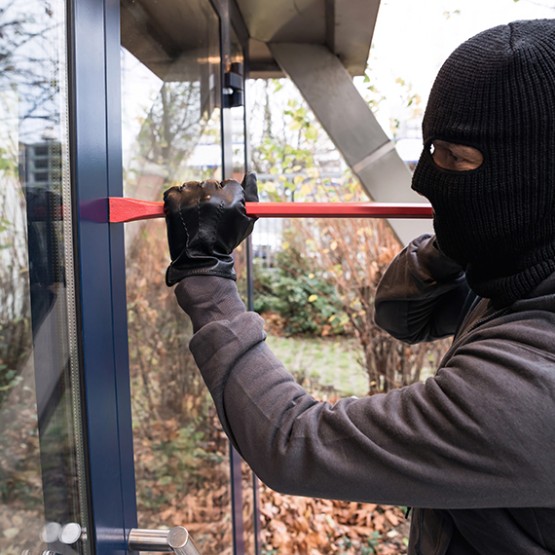 Burglary resistance
A resistant and luminous door that, at the same time, offers an RC4 level against burglary.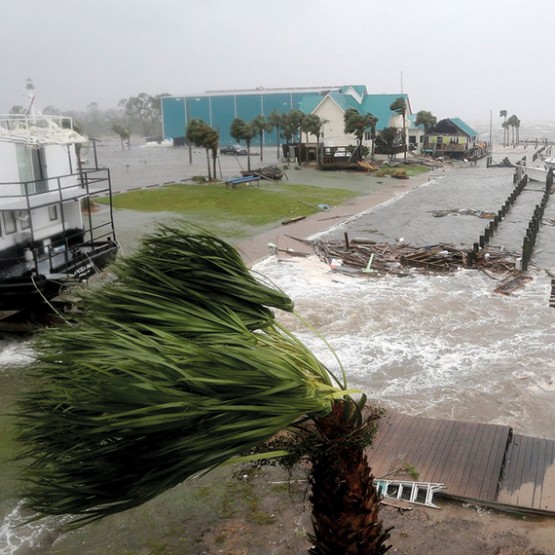 Wind resistance
Thanks to its exclusive design and resistance, the door protects against strong winds (class 2) and the damages it can cause. This model can support wind charges of up to 98 km/h.
Can the die-cut affect the security of my business?
Absolutely not. The SECURBAIX BL VISION is a security shutter tested and certified in compliance with the most demanding European burglar proof regulations and has obtained class 4 (RC4) burglar proof certification. A functional and elegant door like this one must also be safe and ensure the security of the space it intends to protect.
Is SECURBAIX BL VISION also bulletproof?
Even though CBX has different shutter models certified against firearms and burglary, the SECURBAIX BL VISION has been designed to protect only against burglary attempts up to level RC4. If you require a shutter that is both burglar proof and bulletproof, the product you are looking for is within our DIAMOND series.
My business requires specific colour standards, can I choose for the door the colour I need?
Of course. We offer a wide range of colours within our colour chart. In addition, if the colour you require has specific characteristics let us know and we will adapt to your needs. You must bear in mind, though, that certain colours can last less than others due to the rolling of the door on its axis and the friction that causes.
Can I add a lock to my CBX shutter?
Yes. As an option, you can include a blocking system through a cylinder lock located in the door's plinth. This provides more security and peace of mind when unblocking the door. In addition, and in order to avoid breakdowns, you can add to your door the intelligent locking system E-KEY that prevents activating the door and damaging the engine when the inferior lock is not open.
What is the warranty of the CBX doors?
CBX doors include a 2-year manufacturing warranty and 2 years of warranty for the installation whenever this was performed by our professionals. Such warranty is subject to the maintenance of the door, therefore it is of utmost importance to follow the manufacturer's instructions regarding maintenance.
Is it possible to combine the burglar proof capacity with a bulletproof protection?
Yes. Depending on the model, you can have a door tailored to your exclusive needs. If you are looking for bulletproof protection (as well as burglar-proof resistance), check our DIAMOND series with the different levels of bulletproof and burglar proof protection. Some of the models are also blast proof or fire proof (depending on the model).
Protect yourself with our maximum security solutions
Protect yourself with our maximum security solutions