Invest in armoured building and shield your piece of mind
Invest in armoured building and shield your piece of mind
We shield your peace of mind
When talking about high security, it is important to know what systems are necessary and what options exist when shielding our peace of mind. CBX systems may combine with different types and levels of protection. Sometimes the use of a burglar-proof door is necessary but we may also require bulletproof, blast-proof or fire-resistant capabilities and often need all of these options combined in one door. This is why we offer the possibility of creating a customized model that responds to your specific needs, based on a series of available options. You will receive an unsurmountable door that perfectly adapts to the structure of any location.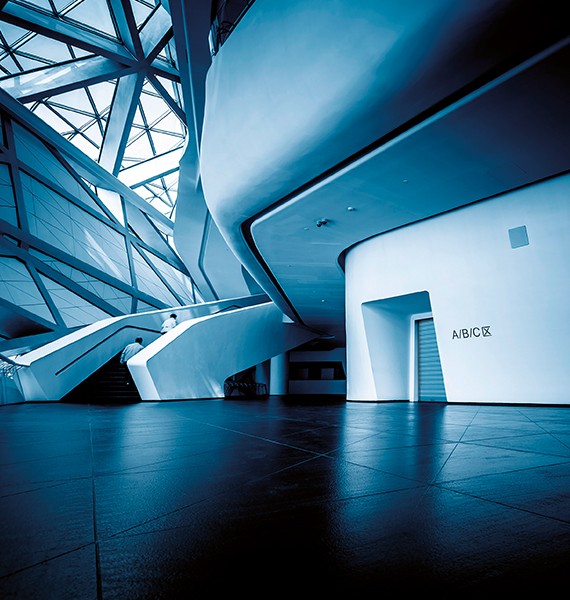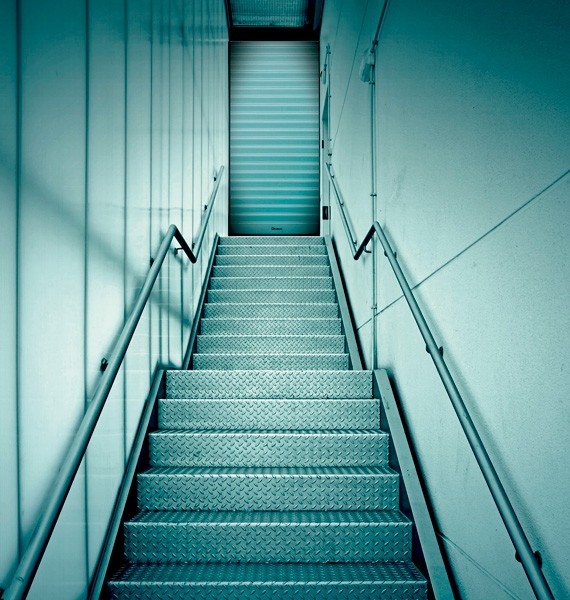 Blast-proof security and reliability
Ram-raids, explosions, firearms, Molotov cocktails, fire or even hurricanes are only some of the ways in which all the effort invested in the construction of a safe environment (whether industrial, commercial or residential) may be blown to pieces in a matter of seconds. To protect what you value most (business or housing) we have developed a range of unique maximum-security products. This way there won't be any surprise factor given our security systems are prepared to support any assault threat. You may choose the level of security that best adapts to your needs by selecting the product that responds to the regulatory requirements of your home or business.
What type of element is the DIAMOND shutter?
The DIAMOND is a high-security shutter or coiling door that prevents robbery, intrusion, terrorism, firearm attacks, explosions, fires or hurricanes. This kind of armoured building or physical security element it not only appropriate for housing, but also for certain buildings or premises that, sometimes due to legal requirements and others because of the delicate nature of the activity engaged inside; require high protection against external attacks (whether foreseeable or not).
Contrary to a standard shutter that is usually manufactured from low-quality steel or aluminium; the security shutter (like the DIAMOND BL or BL X-TREME) is manufactured from a special strengthened aluminium alloy. These shutters are made of a high-density hardened extruded aluminium. This aluminium alloy is formed in bars or rolls through a process called extrusion and material fusion. Pure metals have, among others, the characteristic of being ultra-strong, making them ideal for applications where durability and ultra-resistance is required. This is why our shutters or roller doors are made of an aluminium alloy that includes titanium. The aluminium not only offers a modern and elegant aesthetic, but its lightness and resistance to corrosion make it the perfect material for this kind of security system. This highly resistant aluminium is lighter and 10 times more resistant than steel.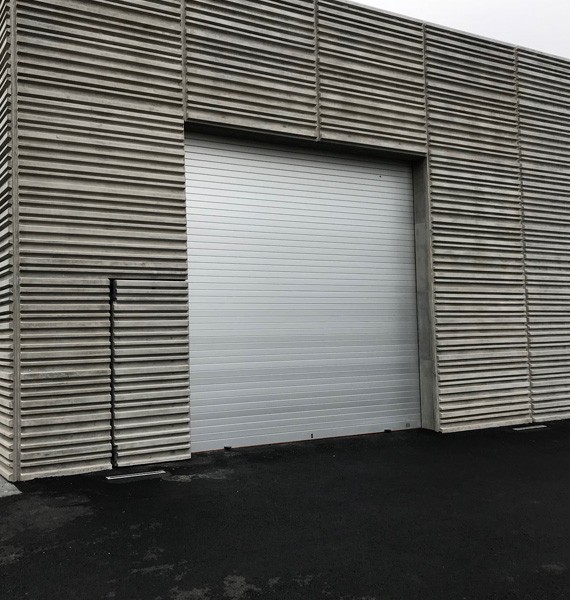 Ultra security, top quality and unique design
Ultra security, top quality and unique design
In the security sector there are different kinds of protections that should be known in order to identify the most appropriate for our particular needs: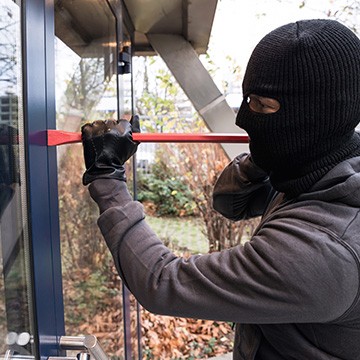 Bulletproof resistance
Classified and regulated by European standard EN 1522:1999. This regulation is applicable to windows, doors, shutters and lattices and its classification goes from FB1 for the lowest security level, up to FB6 for the highest. Our Diamond series range from FB4-S to FB6-NS (AK47 Kalachnikov).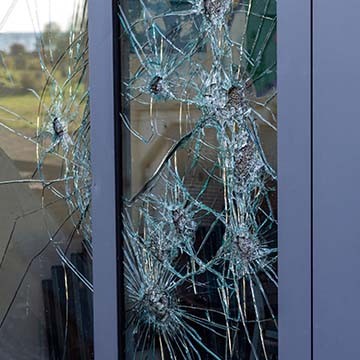 Blast resistance
It is classified and regulated by European standard EN 13123-2:2004, that defines the criteria the doors, windows and shutters must comply with in order to classify against explosions in outdoor tests. They may classify from EXR2 to EXR5 in ascending order depending on their resistance to the explosion.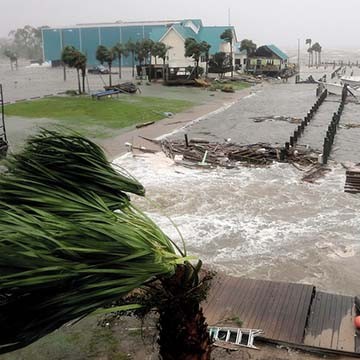 Hurricane resistance
It is classified and regulated by the European standard EN 12424:2000, applicable to industrial doors, commercial doors, garage doors and gates in closed position. This regulation classifies these elements from C1 to C5 according to their resistance to the pressure exerted by wind.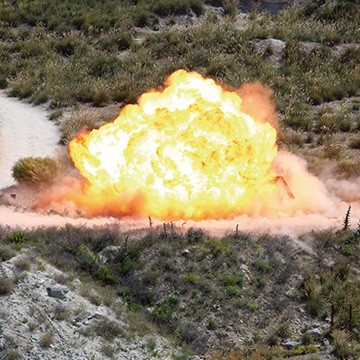 Explosions resistance
Classified and regulated by the regulations in 13123-2: 2004. The elements can be classified from EXR 1 to EXR 5 in increasing order according to their resistance to the explosion.
Fire resistance
In order to fight against fire, the slats are filled with an intumescent compound that makes them fire-retardant for a determined period of time. Regulated in accordance with European standard EN 1634-1:2016 and classified according to EN 13501-1:2019.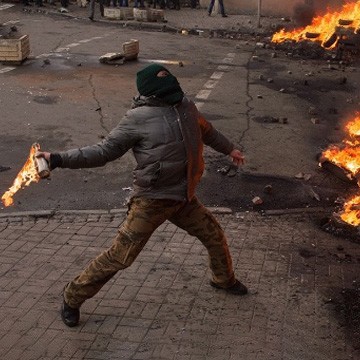 Molotov cocktail resistance
In addition to all the protections aforementioned, all of the DIAMOND series models offer Molotov cocktail protection.
Before choosing a security element (door, window or fixed element), it is necessary to identify the required use: burglar-proof, blast-proof, bulletproof… The DIAMOND is specifically designed to offer the maximum bulletproof protection -FB6-NS (European regulation EN-1522:1999), providing at the same time a high level of protection against robbery -RC6 (also known as burglary resistance) (EN 1627:2011) and a powerful wind resistance -Class 5 (EN 12424:2000).
It is the perfect product to use in housings, bunkers, panic rooms, shops or any other place requiring a high level of protection.
Our protection is our priority
Our protection is our priority
Regulations and certifications
Regulations regarding security are abundant and demanding, therefore all of our high-security products strictly comply with all European regulations in force on the matter. When dealing with protection and security, it is of outmost importance to comply with regulations in force, always existing an equivalent in the different continents.
Bulletproof resistance is regulated by standard EN 1522:1999 that, at the same time, establishes the different levels of protection according to the nature of the test (from class FB1 tested with a rifle or carbine with a 22-calibre bullet to class FB7 for rifles with 7.62 x 51 projectile shielded in copper alloy, as well as FSG for shotguns with massif copper pellets). With regards to this product, the bulletproof protection level is FB6-NS (supports shots from a rifle or carbine with 5.56×45 calibre at a 10-meter distance). The NS acronym at the end (no splinters) guarantees that, after an impact, no fragments or splinters come off the surface, thus ensuring the protection of people standing on the other side of the door.
Standard EN 1627:2011 regulates burglar-proof class, divided into levels that go from RC1 (occasional burglar using small simple tools and physical force) to RC6 (experienced attacker using powerful electrical tools and other elements of big dimensions). The DIAMOND BL X-TREME offers the maximum burglar-proof class (RC6), guaranteeing the door's air-tightness against any attempted assault using brute force or most tools currently used to commit robberies. The tests to justify this level of resistance have been developed to support assault by an experimented and professional burglar, who planned the attack knowing the obstacles to overcome and using tools that usually include power tools.
As an additional characteristic, the doors include a class 5 wind resistance certification according to regulation EN 12424:2000. This is the highest level of wind resistance (the door can support a pressure level over 1,000 Pa) thanks to the reinforced anchorage to the structure and to different structural elements.
The DIAMOND series is the first one in the world to obtain European class FB4-S and FB6-NS regarding bulletproof protection. The series also offers burglar proof classes RC3 to RC6 and C5 class regarding wind resistance.
In addition, depending on the model, they can comply with regulation EN 1634-1:2016 on fire protection and EN 13123-2:2004 on blast protection.
One of the most secure and impassable bulletproof and burglar-proof doors
Thanks to their resistance, backed by all the European certifications acquired after multiple tests, these doors are one of the most secure and impassable doors in the world. This is possible due to the combination of engineering and manufacture, that uses extremely resistant materials such as aluminium or titanium. These models were subjected to demanding physical tests against a wide range of attack methods (whether professional or not).
Like attack methods evolve over time, the level of the tests to which our products have been subjected to have evolved too in order to anticipate to future attack methods that may be committed by criminal bands or terrorist groups.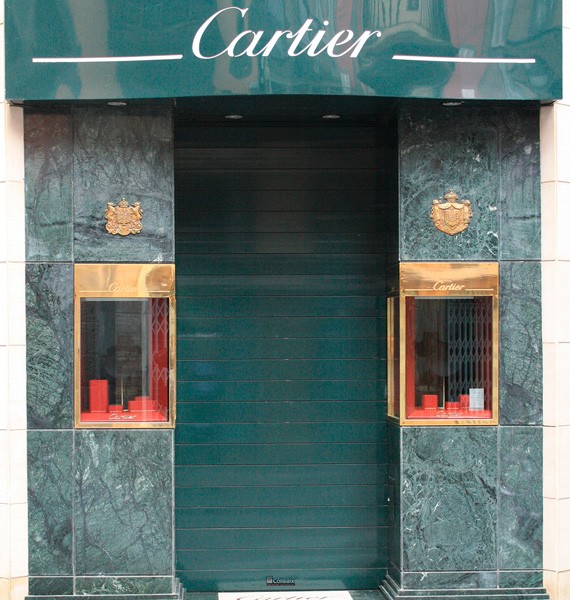 Integration and finishings
If you already have a security system, the DIAMOND's system's capacity to integrate in any environment with other electronic devices will allow you to continue using your preferred system without altering the door's performance or being affected by incompatibilities.
In addition, it provides a wide range of finishings that enable its integration in any decorative environment. The model can be lacquered in the RAL range, anodised or painted in high-resistance anodised.
The tissue of the Diamond system is made up of strengthened extruded aluminium alloy (Al and Ti). It is manufactured with straight slats with high resistance aluminium alloy with double wall and anti-friction nylon. The guides include reinforcement and nylon to provide a minimum friction. Engines used may be single-phase or three-phase, tubular or lateral, calculated for the specific needs and characteristics of each project. The standard finishing is high resistance anodised and we provide a special finishing for these models that is anti-splinters and anti-Molotov cocktails called crystal silver.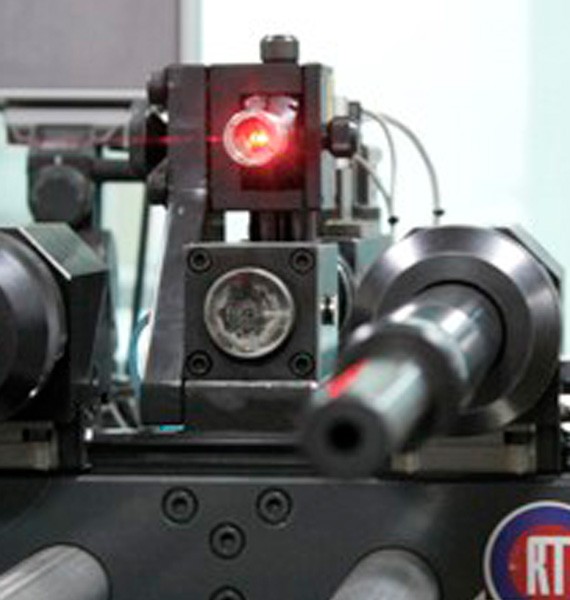 A door tailor-made for you
The DIAMOND series include different models according to the type and level of protection required by your house or business. DIAMOND BL, X-TREME, X-TREME FIRE, X-TREME BLAST… They all provide protection against bullets, burglars and Molotov cocktails, but you can choose between the different levels of protection and the types of additional protection you wish to incorporate to your DIAMOND.
Because each project is unique, and no two doors are the same, our Diamond shutters perfectly adapt to the sizes and looks that your project requires. We are the tailors of your security and will produce the perfect model for your specific needs.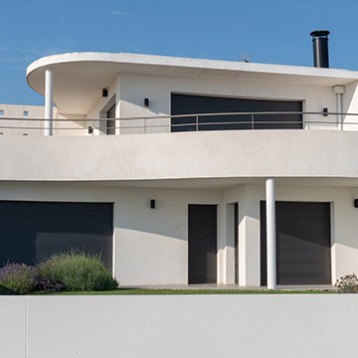 DIAMOND BL
Even though this is our basic model of the series, the door provides an FB4-S bulletproof protection, an RC5 burglar-proof protection as well as protection against Molotov cocktails and a class 3 wind protection. This is the perfect product to guarantee the security of your home.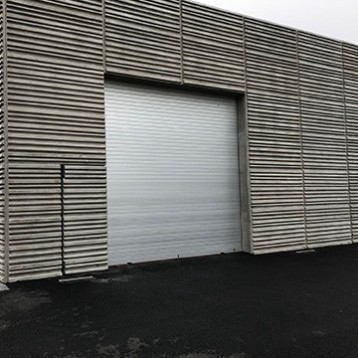 DIAMOND BL X-TREME
This superior model provides an FB6-NS bulletproof protection, an RC6 burglar-proof protection, Molotov cocktail protection and a class 3 hurricane protection. The perfect model to combine exquisite design and maximum security.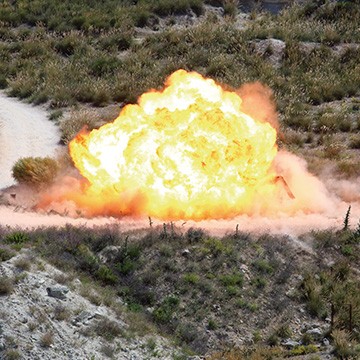 DIAMOND BL X-TREME BLAST
The DIAMOND BL X-TREME BLAST, is the only shutter in the world providing blast protection. The BLAST PROOF version guarantees an EXR5-NS resistance level according to regulation EN 13123-2:2004. To this effect, the door has been tested to become impassable, bulletproof, burglar-proof, blast-proof, wind-resistant and anti Molotov cocktails.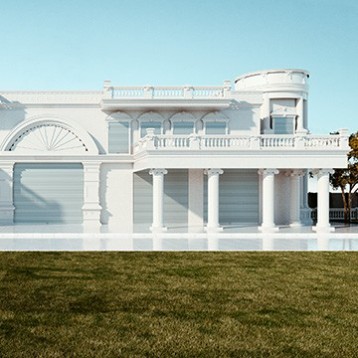 DIAMOND BL X-TREME MAX
The most complete version of the DIAMOND. The DIAMOND BL X-TREME MAX offers the highest burglar proof protection (RC6 according to EN 1627:2011), bulletproof protection(FB6-NS according to EN 1522:1999), blast-proof protection (EXR5-NS according to EN 13123-2:2004), fire resistance (E60 according to EN 13501-1:2019), wind resistance (C5 according to EN 13123-2:2004) and anti Molotov cocktails.
Protect yourself with our maximum security solutions
Protect yourself with our maximum security solutions